I'd almost forgotten just how beautiful Wachesaw Plantation is… it's breath taking.
It's one of Myrtle Beaches hidden gems for weddings. The Wachesaw Plantation with it's huge Live Oak trees that drape shade for visitors, with Kimbel's Restaurant sitting quietly to the side ready to host an event. The scent of the Waccamaw River plays at your nose as the moss dances in the wind.
I've known the groom, Scott, for quite some time now. I was thrilled and eager to tease him that I'd seen his bride all dressed up before him. We shot her bridal portraits earlier this summer and with her permission created an image that had to be timed perfectly. Arriving right before low tide when the sand bars were showing, we scooted down the river bank to photograph Kelly at the water's edge. It was a stunning portrait right beside the river, framed with Cypress tree knots and roots that would normally be underwater. Setting up the canvas portrait on their wedding day, I made a few people promise me they wouldn't let him peek at the framed art piece. He desired all the emotions of the first look and she was breath taking too. As she walked across the lawn in the classic and form fitting dress from Little White Dress Scott choked up as he saw his wife. The ceremony was lovely and picturesque set beneath the spanish moss of the live oaks and we were all thankful for the light breeze on a warm summers day as they exchanged their vows and rings. Their marriage was celebrated with a symbolic kiss, then it was time to switch gears.
Though lovey-dovey was in the air, our couple was ready to boogie! Scott and Kelly couldn't wait to finish with traditional wedding portraits. Entering the reception banquet, everyone knew what time it was and everyone intended to dance until their hearts were content. Little Harper, Scott's 5 year old daughter ran around, smiling, and dancing with Scott and Kelly all evening. With the reception ending at 11:00, I laughed as everyone piled in cars. They were heading down to Murrells Inlet to continue the festivities and good times.
There is a beauty in the surrender this couple gifts each other. I know Scott will always hold his wife by his heart, under his arm, and with gentle hands. Kelly will always do likewise.
Congrats guys, completely love your calm and crazy and all its charm!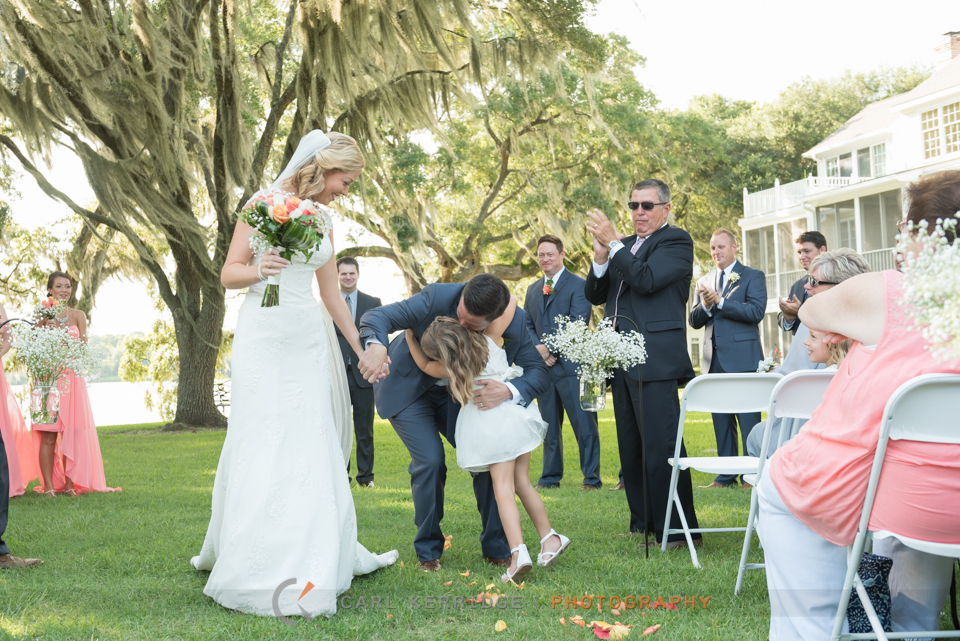 Vendors:
Location and Catering: Wachesaw Plantation and Kimbel Restaurant
Event Coordinator: Brayer Surratt
Hair:Maggie Williamson with Cheveux
Makeup:Kayla Mitchell with Madison Ave Salon & Ulta
Wedding Dress: Little White Dress
Cake: Cocodots Cake Shop
Florist: Nature's Garden
Entertainment: Broadway Jake Productions